Managed IT Services for Business
IT Support Dublin & Nationwide
For everything you need to know about Microsoft 365, go to Office365.ie. You can setup a free trial, check out pricing or read our blog on what changes or planned updates are taking place with the Microsoft 365 family.
The home of subscription-based Managed IT Services. IT.ie specialise in providing IT Support & Solutions to SME's based in Dublin and throughout Ireland.
Remotesupport.ie is designed to simplify the entire support process. We provide Remote IT Support that is safe, reliable, and completely secure. You Call. We Connect We Resolve.
Established in 2004 by Eamon Gallagher  we were originally called PCtechnix and operated as a break/fix IT Support company. In 2016 we re-branded as IT.ie and began transforming the company into a Managed IT Services organisation. Today we are the trusted Managed IT Services provider to 100's of businesses nationwide. 
A lot has happened since then. Read our full story HERE.
AT IT.ie we deliver IT Services via our flexible Managed IT Services solutions.
What are Managed IT Services?
Managed IT Services are a subscription-based model of outsourced IT Support Services that requires little or no upfront capital investment on the part of the client. You simply pay an agreed monthly fee for the proactive maintenance and support of your IT infrastructure. We see the future of IT Support Services as that of just another utility, similar to how other utilities such as your phone, gas or electricity are delivered. When you pay your electricity utility provider, you expect to have uninterrupted power. The same should apply with IT, when you sign up with IT.ie, we proactively monitor your systems and react quickly to issues that have to potential to result in IT downtime for your business
We provide the highest standard of Managed IT Support,  as well as Hardware Sales and a wide range of IT Solutions to business customers of all sizes throughout Dublin and Nationwide. 
How to Switch
Simply get in touch via the contact form on this page or give us a call. One of our senior representatives will get back to you quickly to discuss your requirements and answer any question you may have.  You will be asked to provide a list of devices that you would like supported, such as, servers, desktops, laptops etc. We will then follow up with a comprehensive and waffle free proposal within 24 hours that outlines what you require and only what you require, to ensure your IT infrastructure is efficient, effective, secure and ready for the future. 
The IT.ie team provide a great service. Their attention and knowledge was paramount in bringing our offices from one laptop to a fully functional networked office. Work flow has improved and our new systems look great! The back-up support is also fantastic, always a pleasure dealing with them!
The Support Team at IT.ie have been unbelievably helpful each and every time we have looked for help. I highly recommend them to all potential clients. Olive Reddy Greeneform Ltd
"IT.ie have been providing the highest possible standard of IT Support to St. Canices G.N.S for over 13 years now. I regularly recommend their services to other schools and would encourage anyone to explore their full range of product & support packages".
Eamon and his team recently carried out a survey and upgrade to our Wi-Fi system in a residents amenity area. It was carried out with no interruption or downtime to our residents which was wonderful. Our experience has been very positive and i would have no hesitation in using IT.ie for any future work for their experience and professionalism .
As clients of IT.ie, I find this company very efficient and responsive. They played a very important part in setting up my new office and showrooms and were very helpful with all our requests.
"The team at IT.ie did a fantastic job helping us update the IT equipment and infrastructure in our school and their support service since has been excellent. Highly recommend IT.ie for schools."
Eamon and the team in IT.ie have managed our IT support and hardware needs since 2003. During that time, they have advised us on network infrastructure, security, policy implementation and hardware options. They support our business operations 24/7/365 and we value and recognise their essential partnership. We look forward to continuing our working partnership with them into the future.
We use IT.ie managed service package and find it excellent. They in effect are our IT department and provide excellent service for both our office and field-based employees.
The support team at IT.ie are fantastic. They are fully connected to our systems and get things fixed very quickly. A very good ticket system that gives you confidence it will get sorted.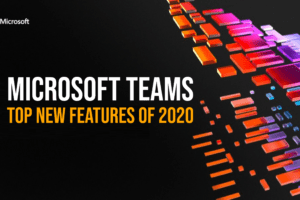 Microsoft
This year has seen Microsoft release some welcome new features, including Custom Backgrounds, 3 x 3 view on Desktops and Raise your Hand in Meetings. As the features keep rolling out the team at IT.ie have picked the top new features announced at or leading up to the Microsoft's Virtual Ignite 2020 event.
Read More »
Ransomware
The world most valuable resource is no longer oil, but data. So what happens when this most valuable of assets is compromised or stolen? Would you pay to get it back or prevent its release to the wilds of the internet? Recent data suggests that 70% of enterprise ransomware attacks result in the criminals successfully eliciting payment from their victims.
Read More »
Careers
Share on facebook Share on google Share on twitter Share on linkedin Over the last 7 months, Josh O'Regan has been working with IT.ie on a paid internship. Josh is about to begin his final year at the National College of Ireland (NCI) where he is currently undertaking a BSc in Computing. Unfortunately, this will
Read More »
Do you have a question or simply want some IT advice for your business. Just fill in the form below and we'll get right  back to you.