With Verizon reporting that the 'human element' plays a part in 85% of cyber security breaches, your business can be compromised by just one well-crafted and well-researched phishing email landing in an employee's inbox.
The fact is, common attacks like phishing have rapidly evolved over the past few years, and businesses have been slow to put in place effective measures for combatting the growing risks – resulting in more breaches, costly financial hits and damaging data losses.
Our Human Risk Management service reduces employee human error and gives staff the knowledge to combat evolving cyber threats. 
Start tackling human cyber risk through ongoing Human Risk Management (HRM)
With user-targeted attacks seeing a huge increase in the past couple of years, not least due to the rapid switch of staff working from home, sophisticated attacks like phishing and business email compromise have surged.
That's why we now offer a new comprehensive solution for helping your business measure, reduce and monitor human cyber risk – without hindering employee productivity or draining internal time or money.
With our new managed Human Risk Management (HRM) service, you're able to:
Prevent user-related breaches, fines and financial losses caused by human error
Strengthen data loss prevention by boosting human resilience to targeted attacks
Demonstrate compliance standards with key frameworks like ISO 27001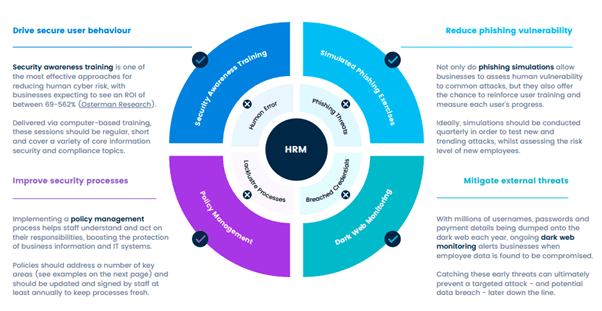 Human Risk Management (HRM) combines the key elements needed to build a security-savvy culture against evolving cyber threats. It does this by combining:
Regular user-tailored security awareness training that educates staff through bite-sized videos.
Periodic phishing simulations that assess ongoing human vulnerability against a range of trending attacks.
Ongoing dark web monitoring that identifies exposed user credentials on the dark web, allowing you to prevent attacks before they happen.
Understand your employee security posture today with a free Human Risk Report (HRR)
Through a few steps, we'll calculate the human risk score of your business and provide you with a clear action plan for strengthening at-risk areas.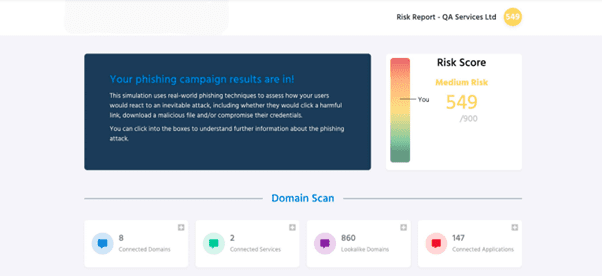 View example Human Risk Report
To claim your free Human Risk Report (HRR), fill in the form on this page (Free Human Risk Report) and we'll start analysing your business for vulnerabilities. To better understand what Human Risk Management is you can find out more on our Cyber Awareness Training page.